According to several studies conducted, one by the giant Google, has determined that the most complex or overloaded websites are considered much less attractive than those websites that display a simple and nice design. Therefore, one can say that simplicity is the main protagonist of the best web designs.
The researchers stressed that other websites that have a much more straightforward and simple visual design are much more attractive face of users who visit a particular website. In short, according to studies, the simpler the design, the better.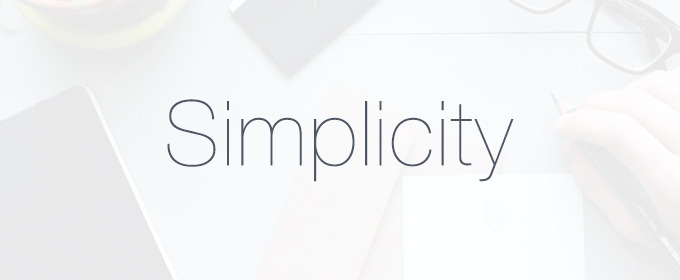 Simplify your online web page design and display a simple design can generate a greater number of users to become potential customers. But why? Why online users looking for simple web pages that can easily process?
"Design must seduce, educate and, perhaps most importantly, provoke an emotional response." April Greiman
Why the best web designs are the simplest?
The main reason that leads to the best web designs are those of the easiest and simplest online pages is because they are considered less complexity for this reason are much more attractive and inviting those who claim to simplicity. That is, Internet users prefer those places where it easier to process all the information that transmits the website.
The visual information penetrates the retina of the eye of the user becomes nervous type pulses, which are responsible for transmitting the information of light and color in the brain. Such that the higher the greater the color and light variations that owns the site, the greater the work that has to make the eye to send information to the brain. Undoubtedly means greater visual complexity.
The best care for each element web designs
It is essential to care all the details and elements of your page, so that when designing a website is important to consider each of the elements that make a website and logo, color selection or typography, as these elements provide interesting information to users about your brand.
Note that if you fail that these elements do their mission and try to compensate your web inserting more images, you'll be making a big mistake, since surely will try to images that are totally unnecessary. This will mean that you'll be adding more complexity to your website.
It is for this reason that it is key that you focus on optimizing your website to get visitors to your site can process all the visual information they receive in this way ensures that all the 'trip' that carries visual information from the eye to the brain may be much simpler. Users attach great importance to the first experience I have to visit a website, so it is important to look after the design since the opening of the website, since users do not think at first if a website is innovative or not it is, giving more importance to the simplicity of it and easy handling.
So if you are looking to buy on your site, be sure to remember that the best web design are those in which simplicity and good taste are the main protagonists. And … start earning money with your website! Remember:
"Think more, design less". Ellen Lupton